Covered Bridges
History & Overview
Of the nearly 14,000 authentic wooden covered bridges that once existed in the United States, less than 900 remain. Over the years, many covered bridges have been destroyed by fire, flooding, or vandalism. The majority of the
others simply collapsed due to age and disrepair, and some were torn down to make way for newer iron bridges.
Pennsylvania has the highest number of covered bridges remaining in the country, with approximately 200 bridges. Columbia and Montour counties are home to the towns of Benton, Berwick, Bloomsburg, and Danville – not to mention 25 of the state's total covered bridges. By area, the counties have one of the highest concentrations of covered bridges in the world. No two covered bridges are alike and each one has its own history, personality, and story to tell. Columbia County alone has 19 bridges. Montour County has two covered bridges, and four additional bridges span the border between Columbia & Northumberland counties.
Why Were Bridges Covered?
Many reasons are suggested for covering bridges. One generally accepted reason is protection from weather and wood rot in order to make sure the bridges lasted longer. Other explanations include:
The covered bridges resembled barns so animals would be calm when passing through them.
Covers kept snow off the bridge and made for less maintenance in the winter months.
To cover up unsightly bridge trusses.
To provide shelter for travelers during storms.
From an engineer's viewpoint, adding a roof to a bridge added stability and strengthened the entire structure. A more romantic utilization of covered bridges was as a location for courting couples to meet. Covered bridges are also known as "kissing bridges" for that very reason!
The stories that this bridge could tell
Are numerous and happy and sad
Each could fill a book or two
With the experiences it has had
From "The Old Covered Bridge" by Doug Frederick
Planning to Visit the Bridges?
If you are planning to visit our iconic covered bridges, your first step would be to obtain our free Covered Bridges of Columbia and Montour Counties brochure and driving map. This comprehensive publication includes all 25 area covered bridges, including a detailed driving map and turn-by- turn directions. The brochure will take you on a historical and educational journey along our scenic back roads to visit the beloved bridges. To get your free copy, visit our "Request a Brochure" page or by stopping in to the Visitors Bureau Welcome Center (121 Papermill Road, Bloomsburg).. You can elect to complete the entire driving tour or just go out and visit a few of the bridges. Venture out at your own pace and enjoy the beauty of the surrounding landscape and covered bridges!
Can't get enough of our covered bridges?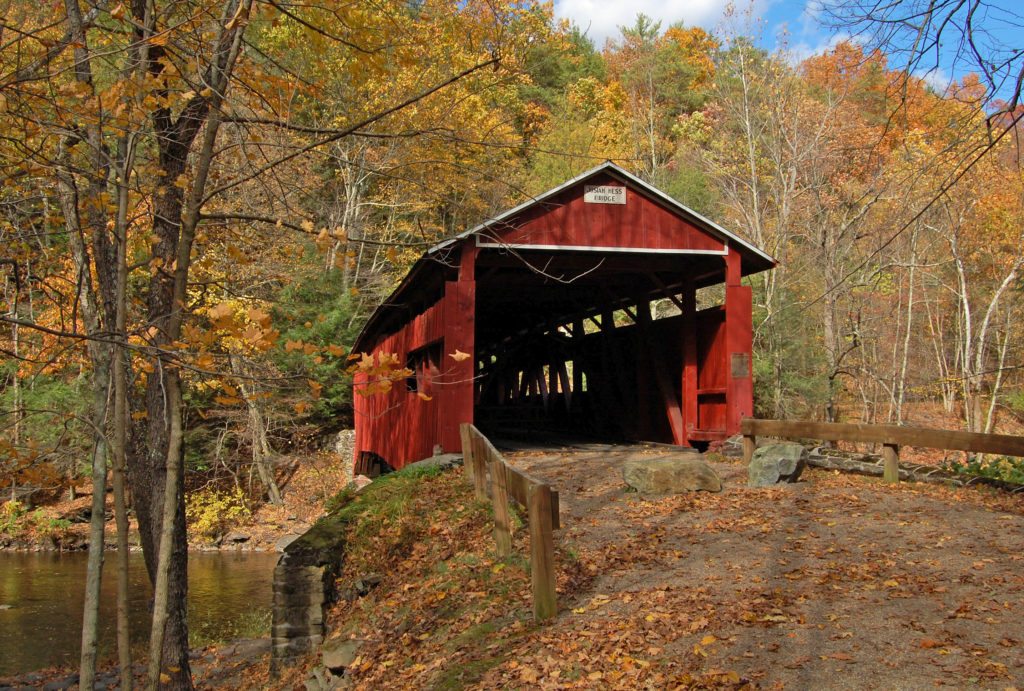 Covered Bridge Photo Contest & Puzzles
Each year, the Visitors Bureau holds a photo contest to produce a 500-piece puzzle featuring one of the area covered bridges. Limited-edition puzzles have been produced the past six years and have featured the East & West Paden bridges (2 times), the Knoebels Bridge, Keefer Mills Bridge, Esther Furnace Bridge, and most recently, the Stillwater Bridge.
The 2017 photo contest was held from April 1st to June 1st. The Visitors Bureau is pleased to announce this year's Covered Bridge Photo Contest winners. The overall winning image will be featured as the 2017 Covered Bridge Puzzle.  This year's puzzle will be released in the fall as the seventh installment in the Visitors Bureau's limited edition series, and will feature the Josiah Hess Bridge for the first time.
Bob Erlsten's snapshot of the Josiah Hess Bridge in Columbia County was selected as the overall winner. Bob is a lifelong resident of the area who lives in rural Montour County with his wife and several four-legged companions. An avid outdoorsman, Bob enjoys nature photography with a focus on wildlife and landscapes.  He has photographed all of the covered bridges in Columbia and Montour Counties at one time or another with the Josiah Hess Bridge being ones of his favorites.
Several other photographers were recognized in this year's contest: Margie Hunsinger submitted the 2nd place photograph of the Richards Bridge, Kim Jo Hess was awarded 3rd place with her photo of the Josiah Hess Bridge, and Brandy Whitenight and Julie Jones received honorable mentions.  The Visitors Bureau would like to thank everyone who submitted photos for the contest, as there were a record number of submitted photos this year.
There are still very limited quantities of the Keefer Mills, Esther Furnace, and Stillwater Bridge puzzles available for sale prior to the release of this year's puzzle as part of the collector's edition series.  These puzzles may be purchased at the Visitors Bureau Welcome Center, 121 Papermill Road in Bloomsburg.  These puzzles are also $12, but a discount "2 for $20" or "3 for $28" will be given for those who purchase more than one puzzle.  To receive the discount, puzzles must feature different bridges (ex. cannot purchase 3 Stillwater Bridge puzzles for the discount).
The Visitors Bureau will have the 2017 Josiah Hess puzzles for sale at their Bloomsburg Fair booth this year as well as at the Covered Bridge and Arts Festival (October 5-8 at Knoebels Amusement Resort).  A limited quantity of only 250 puzzles are available on a first come, first serve basis. The Visitors Bureau's covered bridge puzzles are collector's items and make for a great birthday or Christmas present.
The Visitors Bureau is currently taking pre-orders for the 2017 Josiah Hess puzzles – cost is $12, tax included.  A donation of $2 from every puzzle sold will be made by the Bureau to the Columbia County Covered Bridge Association to go toward restoration and preservation of our local covered bridge treasures.
The Columbia County Covered Bridge Association restores, preserves, and advocates for the covered bridges of Columbia County for historical and recreational purposes.  Their purpose is simple: they recognized the historic importance of the covered bridges as a public treasure to be available to and enjoyed by the public and the important part they play in tourism. This non-profit association protects all of our covered bridges not only for today, but also for future generations.
To order your puzzle over the phone (shipping charges will be added if you do not plan to pick them up in person when the arrive in the fall), please call 1-800- 847-4810.
Covered Bridge Bus Tour
Come join our bus tours of the bridges! The Visitors Bureau offers a bus tour each spring and several bus tours in the fall (associated with the Covered Bridge & Arts Festival).
This year's Fall Bus Tours will be held on Saturday, October 7th at 11 AM and 12:30 PM and also on Sunday, October 8th at 12:30 PM.
Tickets are $20 each. The tour lasts about 2.5-3 hours with stops at 4 bridges: Esther Furnace, Rupert, East & West Paden Twin Bridges, and Stillwater.  The tour will pass at least 4 additional bridges, but there will not be time allotted to stop and get off the bus at the additional bridges.  The bus is NOT handicapped accessible, and riders will need to be able to get up the three steps of the bus without assistance.  There will be step-on guides on each bus to provide further information about the bridges and a general history of the area.  Tickets will not be mailed in advance, and will need picked up at Pavilion H at Knoebels at least 30 minutes prior to departure.  Any tickets not picked up 10 minutes prior to departure will be resold to those waiting in line.  Pavilion H is located right off of the parking lot as you enter the Covered Bridge Festival.  There will be a large information sign on the front of the pavilion.
REMEMBER, allow for plenty of time to get into the park.  Saturday traffic can be backed up for 2-3 hours to get into the parking lot.  Cancellations must be made at least 72 hours in advance of the tour for a refund to be issued.  No exceptions.
Reservations are first come, first served, and spots are limited. Call 570-784-8279 for more information or to reserve your spot.