Covered Bridges
History & Overview
Of the nearly 14,000 authentic wooden covered bridges that once existed in the United States, less than 900 remain. Over the years, many covered bridges have been destroyed by fire, flooding, or vandalism. The majority of the
others simply collapsed due to age and disrepair, and some were torn down to make way for newer iron bridges.
Pennsylvania has the highest number of covered bridges remaining in the country, with approximately 200 bridges. Columbia and Montour counties are home to the towns of Benton, Berwick, Bloomsburg, and Danville – not to mention 25 of the state's total covered bridges. By area, the counties have one of the highest concentrations of covered bridges in the world. No two covered bridges are alike and each one has its own history, personality, and story to tell. Columbia County alone has 19 bridges. Montour County has two covered bridges, and four additional bridges span the border between Columbia & Northumberland counties.
Why Were Bridges Covered?
Many reasons are suggested for covering bridges. One generally accepted reason is protection from weather and wood rot in order to make sure the bridges lasted longer. Other explanations include:
The covered bridges resembled barns so animals would be calm when passing through them.
Covers kept snow off the bridge and made for less maintenance in the winter months.
To cover up unsightly bridge trusses.
To provide shelter for travelers during storms.
From an engineer's viewpoint, adding a roof to a bridge added stability and strengthened the entire structure. A more romantic utilization of covered bridges was as a location for courting couples to meet. Covered bridges are also known as "kissing bridges" for that very reason!
The stories that this bridge could tell
Are numerous and happy and sad
Each could fill a book or two
With the experiences it has had
From "The Old Covered Bridge" by Doug Frederick
Planning to Visit the Bridges?
If you are planning to visit our iconic covered bridges, your first step would be to obtain our free Covered Bridges of Columbia and Montour Counties brochure and driving map. This comprehensive publication includes all 25 area covered bridges, including a detailed driving map and turn-by- turn directions. The brochure will take you on a historical and educational journey along our scenic back roads to visit the beloved bridges. To get your free copy, visit our "Request a Brochure" page or by stopping in to the Visitors Bureau Welcome Center (121 Papermill Road, Bloomsburg).. You can elect to complete the entire driving tour or just go out and visit a few of the bridges. Venture out at your own pace and enjoy the beauty of the surrounding landscape and covered bridges!
Can't get enough of our covered bridges?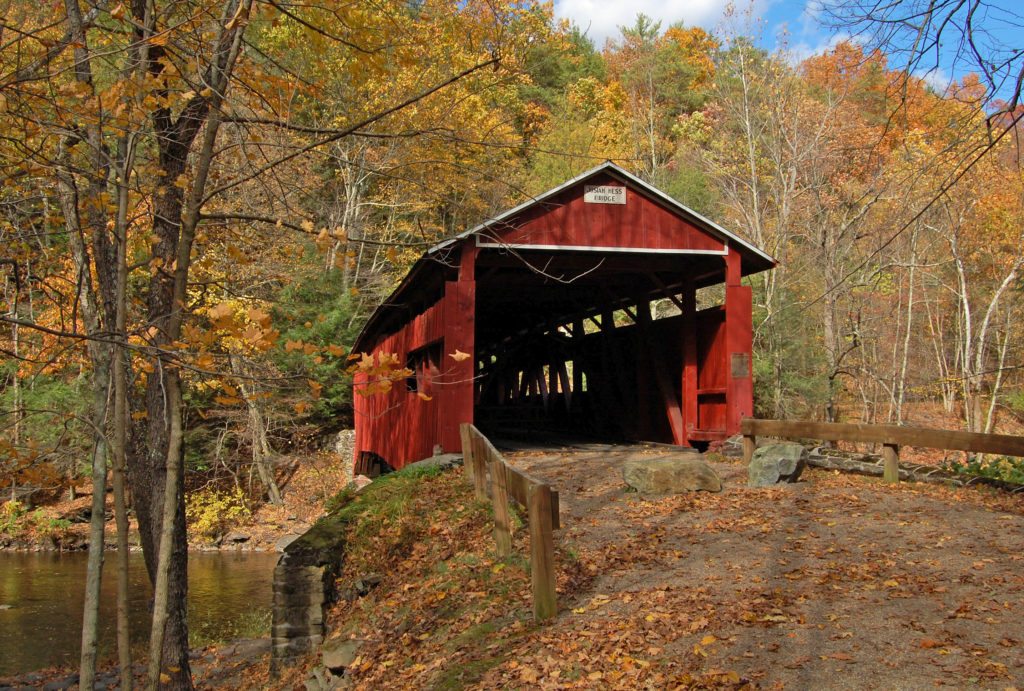 Covered Bridge Photo Contest & Puzzles
Each year, the Visitors Bureau holds a photo contest to produce a 500-piece puzzle featuring one of the area covered bridges. Limited-edition puzzles have been produced the past six years and have featured the East & West Paden bridges (2 times), the Knoebels Bridge, Keefer Mills Bridge, Esther Furnace Bridge, and most recently, the Stillwater Bridge.
The 2017 photo contest is now open. Individuals who have photos of one of the counties' 25 covered bridges are encouraged to submit them for a chance to have their photo featured as the 2017 Covered Bridge Puzzle. Each photographer is permitted to submit up to FOUR of their covered bridge photographs. All entries will be judged primarily on their superior quality, composition, and lighting. Photos from all four seasons are encouraged.
Entries can be emailed to Shane Kiefer, Director of Marketing at skiefer@cmvb.com. No entries will be accepted after June 1st. Photos should be high quality and should be no smaller than 1000 x 1000 pixels. Submitted photos should be labeled as follows: LastName_BridgeName_2017.jpg. The overall winner and several honorable mentions will be announced following the final submission deadline. By submitting, photographers will be providing permission for photos to be used in additional marketing efforts by the Visitors Bureau. Photos may be used to continue promoting the bridges to visitors and in future years' contest advertisements.  Email with further questions.
The 2016 Covered Bridge Photo Contest winner was Kim Jo Hess and featured the Stillwater Bridge. Very limited supplies remain from the past several editions and are available at the Visitors Bureau Welcome Center (121 Papermill Road, Bloomsburg).  Each puzzle retails for $12, tax included. A donation of $2 from each puzzle sold will be made to the Columbia County Covered Bridge Association. For more information, or to order your puzzle over the phone (shipping charges will be added), please call 1-800- 847-4810.
Covered Bridge Bus Tour
Come join our bus tours of the bridges! The Visitors Bureau offers a bus tour each spring and several bus tours in the fall (associated with the Covered Bridge & Arts Festival).
This year's Spring Bus Tour will be held on Saturday, May 20th and will feature a fun and relaxing day in the quaint countryside. Reservations are first come, first served, and spots are VERY limited. $25 per person, includes a homemade lunch on the historic Twin Bridges. Call 1-800- 847-4810 for more information or to reserve your spot.